Please be advised of the following delays to the Bomar Rebecca voyage 0125:
We have been experiencing very high winds on the East Coast as several storm systems pass through the last several days. As a result of these conditions, the Bomar Rebecca will sail Halifax tonight, Nov 15.
eta Port of Palm Beach, Florida Nov 19
eta San Juan, PR Nov 22
eta Nassau Nov 21
eta St Thomas Nov 25
all other destinations should remain on schedule.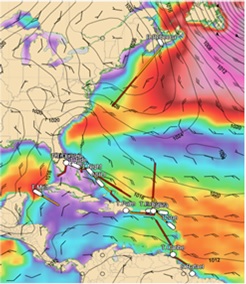 Tropical Shipping values its close relationships we have built with our customers throughout our more than 50-year history. Thank you for choosing us as your carrier of choice to The Bahamas and the Caribbean. For further information, please contact your local sales representative in Canada at 866-767-6576 or the U.S. Customer Service Team at 800-638-TROP (8767) or 561-881-3999.
Complete contact listings, including telephone and fax numbers and email address information can be found 24/7/365 on our website on the Bookings and Customer Service page – found in the Contact area of our website www.tropical.com.