It Takes a Village
Hurricane Dorian left The Bahamas shattered - claiming lives, destroying homes, businesses and infrastructure. But the Category 5 hurricane didn't take the spirit of many who live there and created an extended family with the huge relief effort that followed.
Tropical Shipping stepped in in numerous ways, including partnering with Carnival Cruises to transport relief supplies. Tropical employees donated to a company relief fund, matched by Saltchuk, for their fellow employees in The Bahamas who had to abandon their homes. Tropical's own Marsh Harbor terminal and office buildings were demolished, and we will be working out of trailers until further notice.
As a company, we're proud of how the Tropical family banded together to support each other as well as The Bahamas community, and we continue to make the recovery a priority.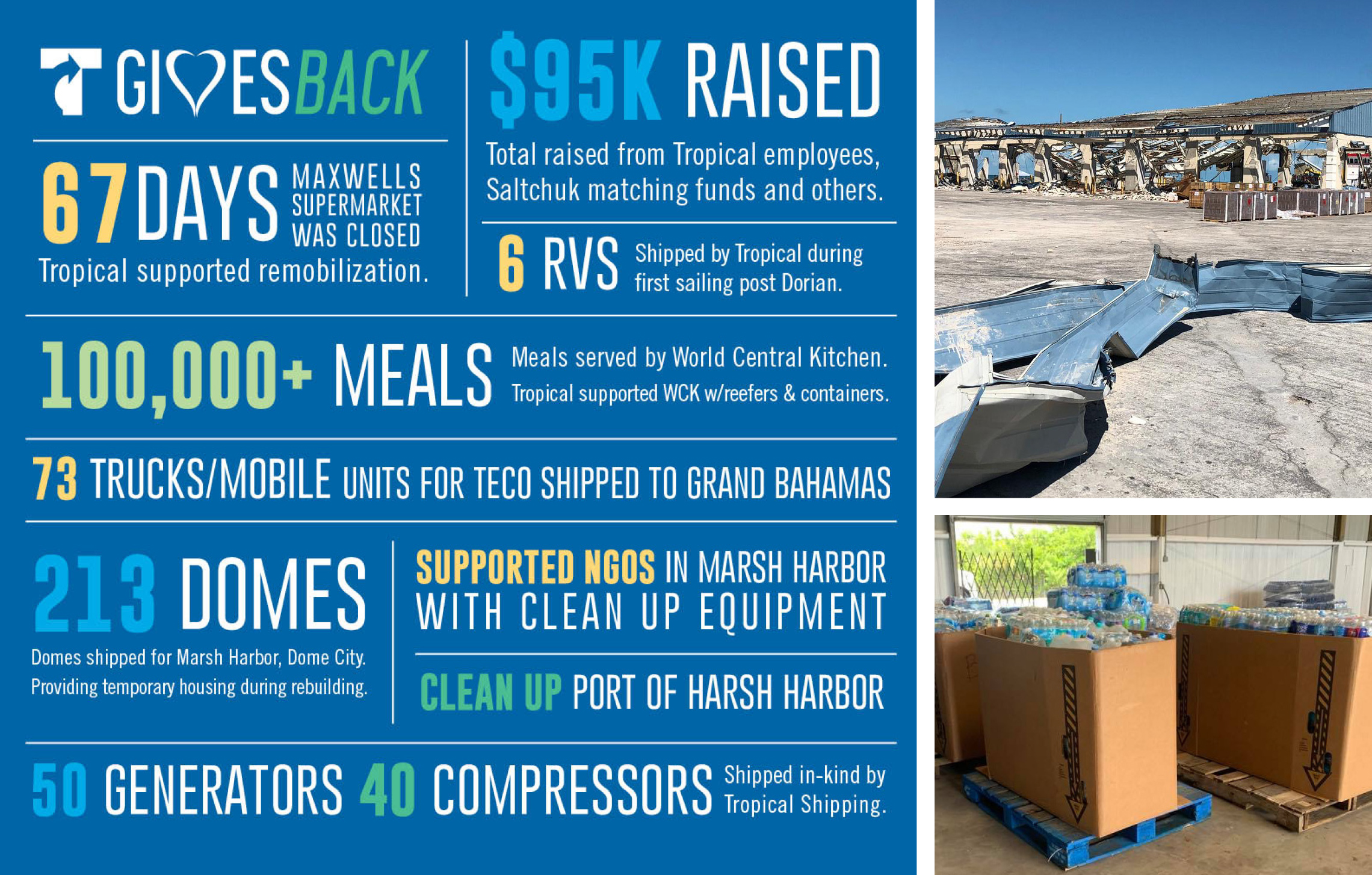 Tropic Lissette Christened by Lissette
When Tropical Shipping leadership were deciding what to name the last of the six vessels to be built in China, they wanted a name that had a legacy. The decision to name her godmother Lissette Murrell, the wife of former Tropical Shipping President and CEO Rick Murrell was simple. Lissette was the rock who supported Rick through his 48-year history at Tropical and, for a time, also worked at Tropical herself. She has helped shape what the company stands for today.
On November 4, Lissette and Rick Murrell and their family joined 400 Tropical Shipping employees, crew and community members at the Port of Palm Beach to christen the Tropic Lissette. The Lissette will serve Canada, St. John, St. Maarten. St. Thomas, Tortola and Virgin Gorda.
The six new vessels represent the largest shipbuilding program in Tropical's 55-year history. With state-of-the-art technology, they are more efficient, safer and eco-friendly and have already improved our on-time service and reliability. They allow Tropical to better serve customers and reaffirm our commitment to island life.
---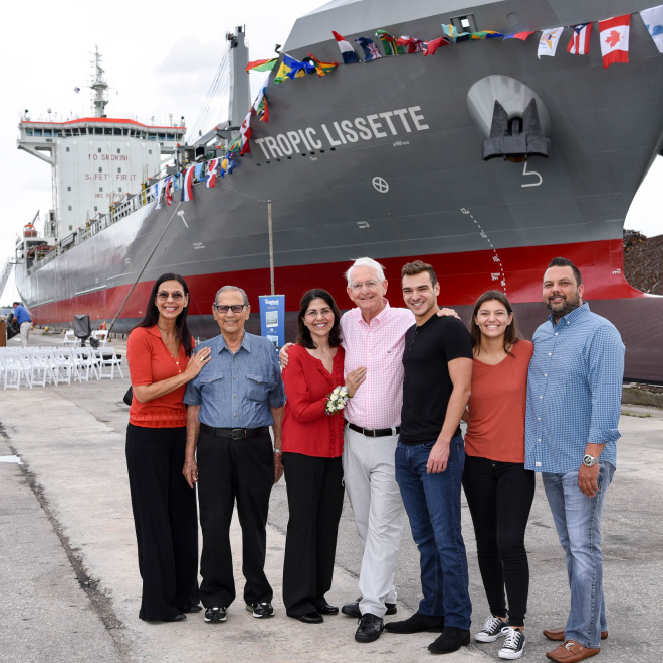 The Murrell Family. Lissette Murrell, center, is godmother to the newly christened Tropic Lissette.
Employee Beacon: T'Vaughn Gibson, Tropical's Own Superhero
Following natural disasters, you might sometimes read stories about heroes, people who went above and beyond during the crisis and put the safety of others above their own.
When Tropical Shipping Assistant Vice President for The Bahamas Doug Cowper was recently asked if he could recall anyone who stood out during Hurricane Dorian, he said, "Oh, that's easy. T'Vaughn Gibson, our Freeport and Marsh Harbor Operations Manager. He lives in Marsh Harbor and after the hurricane he drove where he could and walked through six feet of water to rescue Tropical employees and their families," said Cowper. "He didn't leave one Tropical employee behind and was able to get them all to the airport for flights out. He took the last flight."
What happened before that is a story of its own.
Raised in Freeport by a single mother with a strong faith, 26-year old Gibson came to Tropical in 2016 after graduating from SUNY Maritime where he attended on academic and basketball scholarships (Google him – you'll find plenty of stories about his basketball career). Gibson credits his mother's values and his military training in college for keeping him level-headed during the hurricane.
"I had no idea how much I would rely on my faith and training," said Gibson.
During the eye of Hurricane Dorian, when the wind had died down, a long-time friend from Freeport now living with his four young children and fiancée in Marsh Harbor, knocked on Gibson's door asking him to watch his kids for a few minutes. Mac McIntosh needed to drive his fiancé just a mile down the road to check on her sister.
Part of Gibson's roof had already blown off, but he took the children, ages three through eleven, to the back of the house where the roof was still intact. Just a few minutes after
McIntosh left, the wind started blowing so forcefully, the windows shattered in the room where Gibson and the children were huddled.
"The kids were crying, not knowing when they would see their parents," said Gibson. "I told them to pray and ask God to keep us safe. Showing them that I was at ease and not panicking helped calm them down."
McIntosh and his fiancée made it to her sister's and got one text from Gibson before all communication was lost.
"It said, 'Help. The window has blown in.' I was so scared, but I knew my kids were in really good hands. I've known T'Vaughn since he was 15 and he's so well-grounded," said 38-year old McIntosh.
The winds continued for another eight hours. The rest of the roof of Gibson's home blew off, but he kept the children in a corner guarding them and telling them that they would be okay.
"They would cry sometimes, but I stayed calm and told them we had to be strong together. I held them and prayed, not knowing if we would see their father again." said Gibson.
When the hurricane died down the next day, McIntosh drove to Gibson's home hoping he and the children were there.
"Things could have ended very differently. We're all so lucky to be alive," said McIntosh. "I'm forever grateful to T'Vaughn. I thank him every day. His mother raised him right and it shows."
Gibson's mother also taught him to be humble.
"I just did what anyone would have done," said Gibson.
Spoken like a true hero.
---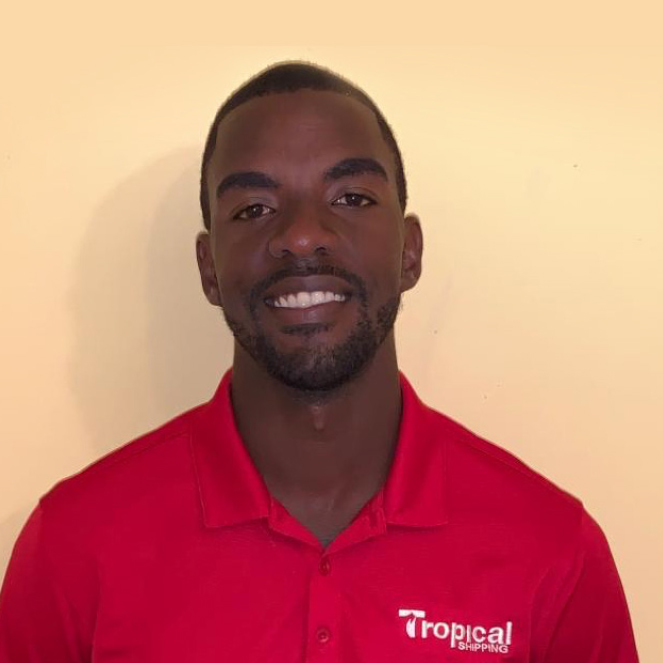 T'Vaughn Gibson, Tropical Shipping Operations Manager, Freeport and Marsh Harbor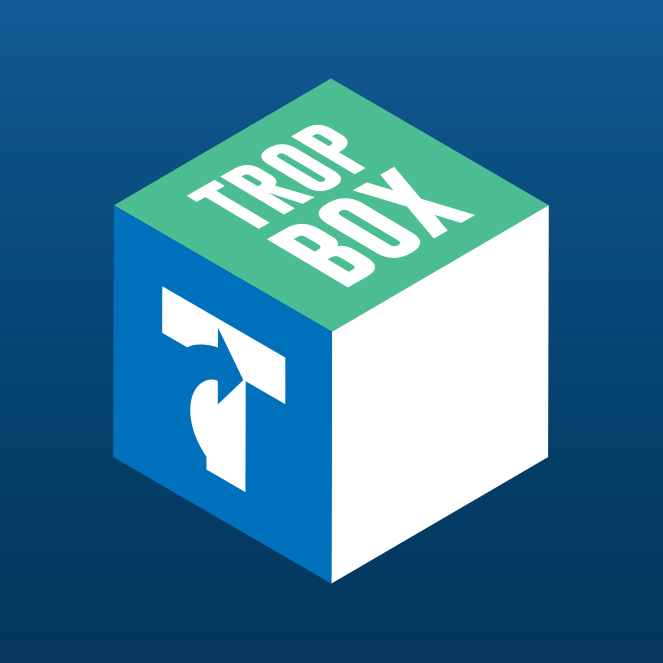 Think Safety First this holiday season! Check decorative lights for frayed wires, bulbs that need to be replaced, or damaged sockets