Tropical Shipping is committed to providing the highest level of customer service, without exception. In our ongoing effort to uphold that commitment, we would like to provide you with information concerning environmental regulations that will impact the ocean transportation industry.
The International Maritime Organization (IMO) 2020 sulfur emissions regulation, effective January 1, 2020, impacts all ocean carriers. This stringent regulation will require ocean carriers to reduce the emissions of sulfur oxides (SOX) from vessels operating outside Emission Control Areas (ECA). Today, ships can use fuel with a sulfur content of 3.5% but effective January 1, 2020 ships can only use fuel with sulfur content of 0.5% outside of the ECA zones. Tropical Shipping supports this regulation as part of our ongoing focus on reducing adverse impacts on the environment.
The utilization of the compliant low-sulfur fuel will dramatically increase the cost of fuel used to power our vessels. Some industry experts estimate that the additional cost to the shipping industry will be $40 - $60 Billion USD to comply with this IMO imposed regulation. The exact cost is unknown as the new fuel is not yet widely available. To provide transparency so that our customers can track and plan how changes in fuel costs will impact the total shipping freight rate, Tropical Shipping will implement a Bunker Fuel Surcharge Index, which will be introduced throughout our service network.
The additional cost of purchasing 0.5% low sulfur fuel will need to be realized well ahead of the January 1, 2020 implementation date to ensure that Tropical Shipping vessels have the correct fuels on board to be in compliance with the new regulations. Beginning August 4, 2019 Tropical Shipping will adjust our current freight and fuel charges to reflect this new format. We will use Ship & Bunker Price Indications to monitor the monthly average price per metric ton of IFO 380 Fuel in Houston and New York. Those averages will be used in conjunction with the Bunker Fuel Surcharge Index to determine adjustments in the fuel charges on the 15th of each month. Any adjustments will be announced with a minimum of 30 days' notice. Please note that the current IFO380 (3.5%) fuel benchmark will change to fuels that comply with the new regulation on November 1, 2019.
The current Low Sulfur Fuel Surcharge will remain in effect as is today as ships are still required to use even cleaner fuel (0.1% sulfur content) in the Emission Control Areas (ECA). (See map below.)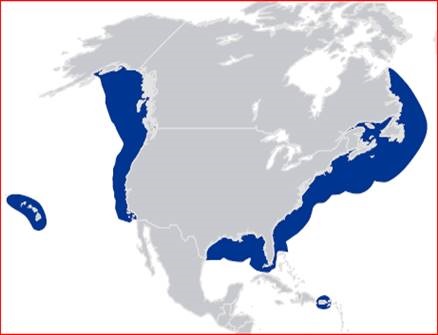 Emission Control Areas (ECAs)
blue shaded area
0.1% Sulphur spec
·no change – burn Low Sulphur Fuel spec (0.1%) while transiting
Global waters (outside the ECAs)
white shaded area
changes Jan 1
Sulphur spec from 3.5% to 0.5%
must burn 0.5% Sulphur spec while transiting

By establishing the Bunker Fuel Surcharge Index Tropical Shipping is providing more transparency on necessary adjustments to changes in fuel costs as we implement the IMO 2020 regulation. The Bunker Fuel Surcharge Index is located on our website under "Download Forms".
As always, we thank you for your continued support.
Tropical Shipping values its close relationships we have built with our customers throughout our more than 50-year history. Thank you for choosing us as your carrier of choice to The Bahamas and the Caribbean. For further information, please contact your local Sales Representative or the U.S. Customer Service Team at 800-638-TROP (8767) or 561-881-3999.
Complete contact listings, including telephone and fax numbers and email address information can be found 24/7/365 on our website on the Bookings and Customer Service page – found in the Contact area of our website www.tropical.com.