Tropical Shipping continues to monitor the path and intensity of Tropical Storm Dorian.
Due to the storm, our vessel schedule changes are as below:
The Tropic Jewel has sailed to Trinidad and will arrive in Barbados at 1800 today.
The Tropic Express sails today to Trinidad and will arrive in Barbados tomorrow, August 28 at 0200.
The Tropic Freedom sailing to Providenciales is delayed until Tropic Storm Dorian passes.
Vessel departures from the Port of Palm Beach this Thursday, August 29 and Friday, August 30 may be delayed due to the path and intensity of Tropic Storm Dorian.
We will continue to provide updates to our vessel schedules and facility operations as Dorian moves through our service area.
Below is the 8 am graphic update from the National Hurricane Center. Please take any needed precautions.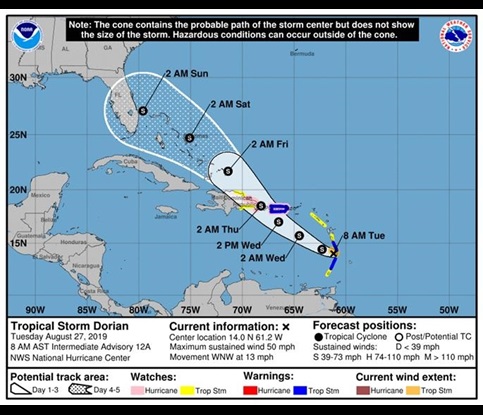 Thank you for choosing us as your carrier of choice to The Bahamas and the Caribbean. For further information, please contact your local sales representative or call the U.S. Customer Service Team at 800-638-TROP (8767) or 561-881-3999.
Complete contact listings, including telephone and fax numbers and email address information can be found 24/7/365 on our website on the Bookings and Customer Service page – found in the Contact area of our website www.tropical.com.