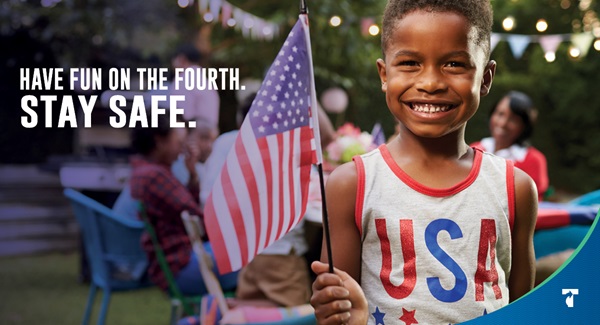 July 4th is a time for swimming, barbecuing and fireworks, and we want our customers, employees and partners to have fun while staying safe. Please take proper precautions to ensure your families celebrate safely. In addition to the reminders below, you'll also want to include COVID-19 precautions such as wearing a mask in public, washing your hands and social distancing when necessary.
Grilling Safety
Inspect gas grill hoses for cracks, holes and leaks.

Keep the grill at least two feet away from decks, siding, branches and any outdoor equipment that can catch fire quickly.

Keep young children away from grills.

Never grill indoors, in the garage, in any enclosed area or on a surface that might catch fire.
Water Safety
Review safe boating and personal watercraft practices.

Never consume alcohol while operating a boat or personal watercraft.

Before boating, always check that there are enough life preservers on hand for every passenger.

Set water safety rules for your family, including swimming pool safety.

Keep a first aid kit near the pool.
Fireworks Safety
Never disassemble or try to make your own fireworks.

Don't point sparklers, or fireworks at yourself or others, especially while they're lit.

Only light fireworks on the ground and in dry, fire resistant areas.

Don't light multiple devices at the same time.

Never allow young children to handle fireworks or sparklers.

Always keep a portable fire extinguisher close by. Also keep a water hose or buckets of water nearby to put out fires.

If fireworks malfunction, don't relight them.

Resist the urge to bring your pet to a fireworks display.