New Tropical eServices Application Launching Soon!
Tropical Shipping is pleased to announce that begin on Monday, March 8, 2021, all current and new, Tropical Web User Customers will be able to access the New Tropical eServices online application! eServices will allow you to quickly and easily Track Your Cargo, Upload/Print Documents, View your Cargo On Hand, Create a New or Copy a Previous Booking, and so much more!
For a limited time, current Tropical Web Users will still be able to access On-Line Tools.

Note

– Make a Payment is a separate registration and not part of On-Line Tools or the New eServices. As always, you must have your Customer ID and a current bill due to use the Make a Payment service.
HOW TO: Login to Tropical eServices
* If you are a current Tropical Web User, your active credentials can be used to log into the New eServices.
HOW TO: Register for Tropical eServices
From the tropical.com Homepage, click on the

Registration

button on the top right-hand side of the page.

Fill out the New User Registration form. Fields in blue are required.

Click on the Registration Request button.

A confirmation email will be sent to you.

Once you have been designated as a Web User by a Tropical employee, you will receive an email with your new User Name and Password.
Forgot Password?
To request a new Password, click on Forgot Password on the eServices login page or from the eService menu dropdown from the home page of tropical.com.
eServices Quick Reference Guide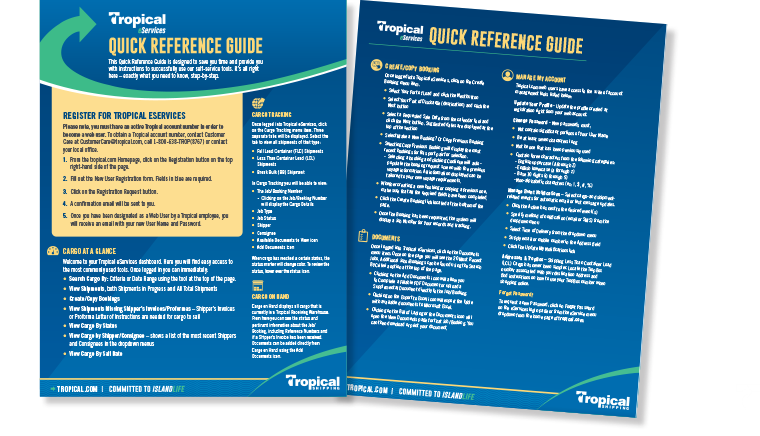 This Quick Reference Guide is designed to save you time and provide you with instructions to successfully use our self-service tools. It's all right here – exactly what you need to know, step-by-step.
How to Register for a Web User Account

How to See Your Cargo at a Glance

How to Use Comprehensive Cargo Tracking

How to View Cargo on Hand

How to Create or Copy a Booking

How to View, Print, Create and Upload Documents

How to Manage Web User Accounts

How to Reset Your Password
Download the eService Quick Reference Guide.
Important Information
**At this time, only customers who have currently or previously shipped with us are able to be registered for the website. If you are not currently a Tropical Customer contact our Customer Service Department or your Local Office for more information:
Customer Care:
P: 561-881-3999 or Toll Free: 800-368-TROP (8767)
E: CustomerCare@tropical.com
Find the Contact Information for Your Local Office:
Locations Lookup