An earthquake of 7.3 magnitude as reported by the U.S. Geological Survey occurred yesterday, August 21, at 5:31 pm in northeastern Venezuela. It was felt throughout the region affecting several of the islands we serve. Due to proximity to the epicenter, Trinidad and Tobago were most affected by the quake. All of our employees and their families are safe and accounted for. Our office and port operations are unaffected and are operating as normal. Tropical Shipping expresses its concern for the people of Trinidad and the greater region.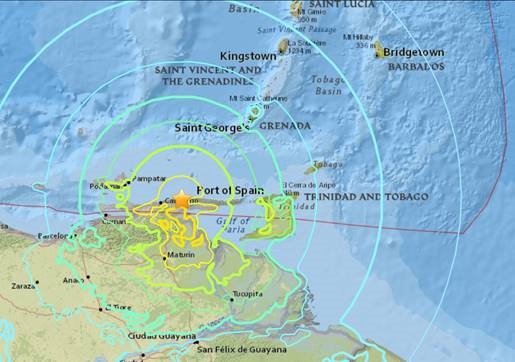 Tropical Shipping values its close relationships we have built with our customers throughout our more than 50-year history. Thank you for choosing us as your carrier of choice to The Bahamas and the Caribbean. For further information, please contact your local sales representative or the U.S. Customer Service Team at 800-638-TROP (8767) or 561-881-3999 or the Trinidad Service Team at 868-821-5658.
Complete contact listings, including telephone and fax numbers and email address information can be found 24/7/365 on our website on the Bookings and Customer Service page – found in the Contact area of our website www.tropical.com.