Tropical Shipping's eServices just got a whole lot better! Now you can book, pay, upload documents, and track your cargo all in ONE spot. We've also added the security platform Okta, ensuring your sensitive information is safe.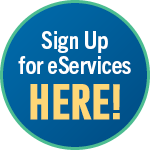 New eServices features:
Create a Booking
The vessel selection process has been improved for faster usability.
Upload Documents
Quick and easy. Tropical thanks you for uploading your own shipping documents. Beginning April, a charge will be implemented for Tropical to upload customer documents.
Pay My Bill
Eliminate delays in receiving your cargo. You can now pay inside eServices, making the process more efficient. You can now view all billing documents at any time.
Cargo Tracking
Tracking details, including event type, date/time, and other information, are now available to view. Equipment number, size, type, and seal(s) will be displayed along with vessel details for each shipment.
These short videos will show you how to register, upload documents, and pay your bill.
Register for eServices
eServices Online Payment
eServices Uploading Documents